A simple guide of the most popular print folds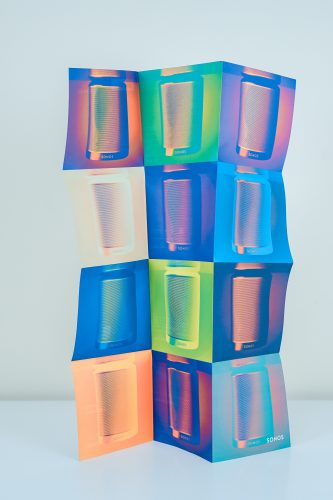 Take an ordinary sheet of paper, put a fold in it and presto – you instantly have a greeting card! In fact, a single fold can turn a single sheet of paper into many different types of printed materials or stationary. Knowing the different types of folds is important, as they create the look of your printed piece and how your information will be organized and received by readers. Below we describe the most popular folds and what they are typically used for.
Half Fold (Bi-fold or Single Fold):  a half fold is made by putting a single centered fold in a paper, making four equal sized panels, 2 front panels and 2 back panels. This fold can be used for greeting cards, invitations, menus, programs or brochures.
Tri-fold: A sheet of paper that is folded two times to make three sections or two flaps that fold inward. Each page fold in on itself. The result is six panels; 3 front and 3 back panels in which the right panel is tucked inside of the panels created by the first fold. This fold is normally used for letters, pamphlets, brochures or when mailing price lists.
Z-fold: this fold makes an accordion looking brochure with two parallel folds in the paper to create 3 sections of almost equal size. The two folds are made in opposite directions, which forms the shape that resembles the letter Z. The paper will open left to right so that the three sections can be viewed at the same time or so that information can be arranged in a logical sequence. The Z-fold is commonly used for letters, flyers and brochures.
A Single Gate Fold: the paper has two parallel folds that meet in the middle. The left and the right-hand pages are folded so that they meet in the middle. It looks similar to two gates opening outward to reveal a larger panel underneath. While any size paper can be used, its final size will be half the original sheet size. This fold can be used for invitations, programs or brochures.
Quarter Fold (French fold):
Normally paper is folded vertically in half, then folded again horizontally in half and then repeated one or more times. A sheet folded in quarters is known as a "French Fold". The fold can be done in various ways, but the idea is to compact the size of the paper used. Cross folds are most commonly used for maps, greeting cards, and brochures.
Quality Printing in Palm Desert
There are many other different types and variations of folds for printed material. Our experts at Xpress Graphics are always helpful and can help you decide on the layout and the number of folds your printed piece may need. They can also recommend a suitable weight of paper to ensure your piece is durable enough as well so that folds do not crack. If you would like a quote for printing your folded materials or would like more details about the different options available, stop in or contact one of our friendly sales professionals for our competitive rates that don't compromise quality.