Using Signs to Advertise your Business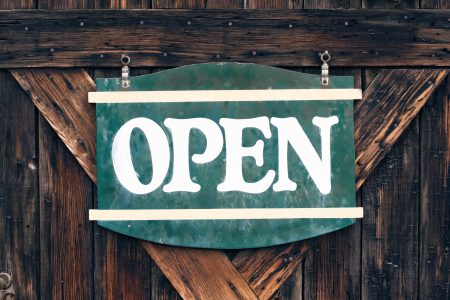 As a business owner in an ever-changing market, you're constantly finding new ways to expand your customer base. Whether it's through online advertising, visual communication or traditional advertising techniques, the success of your business depends on the ability to continually reach more and more people. But what's the most direct way to visually reach customers? Believe it or not, business signs are still the most direct form of visual communication available.
Although we tend to take these signs for granted, both as consumers and business owners, the ever-present existence of these signs plays a huge role in marketing a business. Even in their most simple form, business signs work to attract customers, brand your business and create impulse sales. They easily and effectively give information about your business and direct consumers into the right direction for the good or service they desire.
The Checklist for Effective Business Signs
Before ordering or designing business signs, be sure to address the following questions completely and accurately. This ensures the most effective sign for your company is created and functions exactly how you need it to. When strategizing for new business signs, ask yourself the following:
Who are my customers? – Knowing your target market is important. This includes the demographics and spending habits of all your existing customers and new customers you're trying to reach. A good sign must effectively appeal to both, while still maintaining brand integrity.
What am I trying to say? – Decide on a message that is clear and simple. Focus on buzz words that grab attention, but aren't overwhelming. Effective signs are short, sweet and to the point.
What do I want customers to remember about my business? – Often times, a sign is the first visual part of your business that people see and first impressions always count. Creating a sign that has a specific image, catchphrase or is branded a certain way will insure that they never forget you, so make it count!
How legible will the sign need to be? – Legibility is key to an effective sign. The bigger the sign, the easier it will need to be to read from a distance. Make sure all images, fonts and placements are easy to see and understand from different distances and angles before deciding on a final look. Sometimes what looks good small, doesn't always look good big and vice versa.
Palm Desert Graphic Design and Business Sign Printing
Here at Xpress Graphics we specialize in designing and printing signs of all shapes and sizes for every type of business. Our graphic designers can work with you to create a sign design that will surely wow all your customers, both new and existing. We also guarantee quality printing services at competitive rates and fast turnaround times! Whether you need a sign for a tradeshow, or simply a new sign for your storefront window we would love to help. As a locally owned graphic design and printing company in Palm Desert, helping local businesses with their business printing is what we do best. Contact us today or stop by our store to get started. We can't wait to design a business sign with you!