Have You Sent Out your Christmas Cards Yet?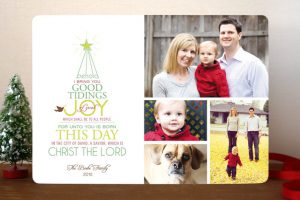 As the end of the year quickly approaches, now is the time when many families are preparing to send out a festive holiday card to all their loved ones. It's the perfect time to include photos of the family for others to enjoy and a special note about this past year's special moments. With Christmas, Hanukah and other year-end celebrations right around the corner, don't wait until the last minute to print and ship your holiday cards. If you haven't already ordered, here are some special Christmas card printing ideas from our graphic design experts that can help you stand out on the fire place mantel and make a splash in holiday card wreaths.
Personalized Christmas Card Printing Ideas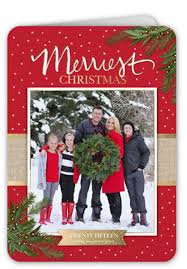 Christmas card printing can be as simple as a nice photo and a heartfelt note, but there's still plenty of room for creativity and of course a little fun. If you're thinking about keeping it simple, consider a traditional holiday card with an elegant family photo on the front and plenty of room to write a note to loved one's on the inside. Or, consider a photo card that looks like a personalized postcard and includes both a seasonal note and some family photos on the front with room for postage on the back.
To execute these ideas, you'll need to gather the family for a well-styled shoot. Try to wear some festive colors and smile big for the camera! Don't forget to include some fun seasonal props like a wreath or a Santa hat. These pictures make for great memories that you, your family and friends can save to enjoy for years to come.
At the end of the day, your Christmas card will be as memorable as the photos you include. Here are some photo ideas that range from creative, funny and casual, to formal and everything in-between. Some of our favorites Christmas cards are the ones that perfectly balance seasonally cute and family-friendly. Like a photo of the kids playing together or allowing the family pet to have a photo cameo! With plenty of holiday ideas to play off of, such as mistletoe, the naughty or nice list, Rudolph the red nose reindeer and of course Santa Claus, the possibilities for a memorable Christmas card are truly endless.
Local Christmas Card Printing in Palm Desert
Call or stop by to place your order with Xpress Graphics today! We offer quick turnaround times, excellent customer service and competitive pricing. Christmas card printing with a local print and design company is a stress-free, no hassle process. You won't have to worry about shipping and you can see the size, quality and final design before you print so there's no surprises when you pick up your holiday cards. We can also help you ship and send all your Christmas packages and cards from our small business solutions center! Come by or call us today to get started, and Happy Holidays!