The Importance of Business Tangibility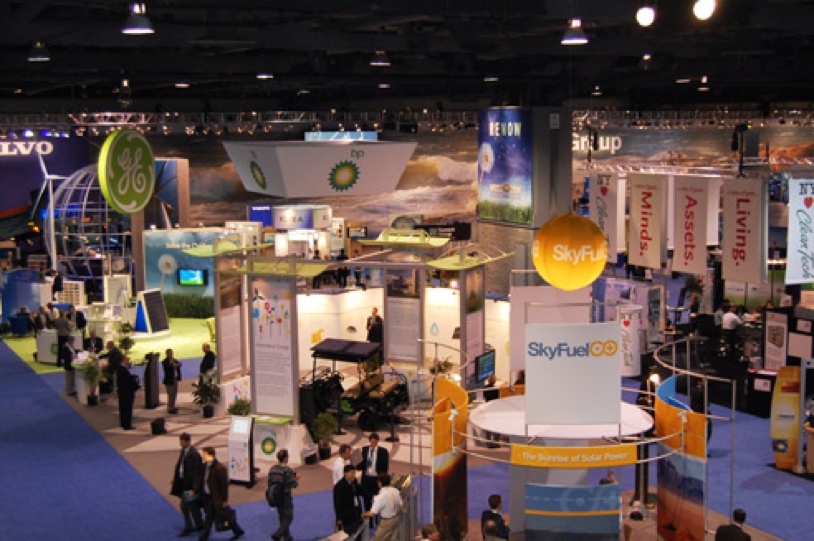 Are you looking to grow your business this year? Conferences are dynamic and some of the most important marketing events you need to attend. They are the best doorway to showcase what your business has to offer, and open unparalleled networking opportunities for you and your team. However, planning for a booth at a conference can get a bit hectic. To make it easier for the process, we have included some essential conference printed materials you will need to make an impression.
Build the Perfect Pack of Conference Materials
Conferences and events call for attention grabbing printing, whether it's a vinyl banner, tabletop displays or feather flags, a successful campaign lies in the overall presentation of your brand.
Branded Tablecloths and Table Displays
Make sure to make your setup unique with a branded tablecloth and displays to match. Whether a small table top display, or large exhibit, drawing prospective customers in is one of the main components of a successful trade show. With this cover, you can mix and match your logo, colors, and tablecloth material. These cloths can help your table stand out in the conference center. Be indistinguishable and have your exhibit stand out.
Step and Repeat Banners
One of the most social media friendly elements to your display. A step and repeat is the perfect backdrop for a crisp presentation and memorable moments. With various fabrics and designs, this is a great form of advertising that will spread your business across the web through social media. Add step and repeat banners to the top of your list of conference printed materials.
Vinyl and Retractable Banners
Guarantee your company gets seen. With so many vendors competing for the attention of conference attendees, you'll need a 'wow' factor that makes your brand stand out among the rest. Make a great first impression with a vinyl banner that showcases your logo. Then, use retractable banners to highlight some of your noteworthy services and products. You'll have people turning heads and asking questions with the professionalism of your banners.
Stickers, Pens and Free Goodies
At conferences, attendees are all-in when it comes to "freebies." So, don't be afraid to invest in materials with your logo. However, remember to stay on-brand where possible. Printing stickers, hats, and recycle bags is the perfect way to engage with possible customers. Other popular goodies include water bottles, keychains, and mousepads.
Conference Printed Materials in Palm Desert
This conference season, take your business's presentation to the next level. Make a list of the materials your business needs and work with one of our graphic designers to create a cohesive look of branded materials that showcase your work. Save yourself gas money and avoid running from print shop to print shop, Xpress Graphics is your one-stop shop for conference printed materials.
It's keen to make use of a local vendor when coming from out of town or are running on a constricted timeline. Our printing experts can help guide you through the design and printing process. However, utilize your time wisely and invest in quality conference printed materials! We have fast-turnaround times, quality printing and competitive pricing.