When it Comes to Printing, Size Does Matter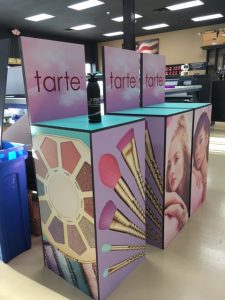 Let your message be heard, in the best way possible. When it comes to gathering marketing materials for your business, there are some tools you don't want to leave out. Whether you're promoting the grand opening of your store or taking your business on-the-go to a conference, large format printing is essential for a professional presence and positive advocacy results.
From posters, to billboards and wall graphics, large format printing carries numerous benefits and can help reinforce your brand. We highlighted some of the best benefits of large format printing, and included some printing ideas you can utilize to take your marketing to the next level, literally.
Benefits and Uses
Affordable & Fully Customized
Make sure to plan ahead! Depending on size dimension and the number of prints needed, large format printing is affordable when you print locally. This also allows any printing expert to walk you through the step-by-step printing process, from design to material. You can fully customize your large prints to accentuate your brand and work with a pro that will provide quality turnaround times and competitive pricing.
Built to Last
Large format prints are best when printed in bulk and on demand, and they're biggest benefit is their durability. They can be placed outside for long periods of time, or be taken to an event, and keep their vibrant coloring. These materials can withstand any weather without fading.
Get Noticed
Exposure, exposure,exposure! Help potential customers remember your name and get noticed locally or abroad with a blink of an eye. Large format printing can be used to create eye-catching marketing collateral that makes your brand life-sized. Information at a customer's eye sight level is key, they won't miss a word.
Popular Designs
Vinyl Banners
Waterproof and convenient. These banners encompass the best durable material that keep the message going in any weather. Vinyl banners are portable too, which gives you flexibility in both usage and placement.
Window Graphics
Attract attention and create impulse with large window decals. These prints are cost-effective and are quick and easy to install. With proper care, window prints are long-lasting and provide the option of printing your message or ad on both sides. Whether customers are coming in or going out, your brand will make a lasting impression.
Step and Repeat
Take step and repeat backdrops anywhere you go. These banners are an inexpensive way to increase brand awareness with your company name and logo. Step and repeat banners are prime advertising as customers can easily take pictures in front of the backdrop and share via social media. All in all, they help your company stand out with impressive quality and provide a great return on investment.
Large Format Printing in Palm Desert
When you invest in large format printing, you're making a choice to be bold and stand out among the competition. If you're located in the Palm Desert area, Xpress Graphics will ensure the outcome of your large format prints is done with care and at our highest quality. Our printing experts will be here to provide you with a collection of custom designs, colors, and textures for your printing needs, and all of our large format jobs are printed in-house.