Learn how to design an appetizing menu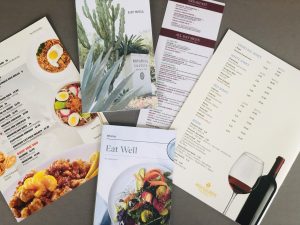 A well-designed menu is a powerful marketing tool. While waiters can assist with sales by suggesting items or services, the real MVP is your menu. A menu serves more purposes than just a tool to communicate what your eatery has to offer to eat. A menu is also used to express the restaurant's personality, promote the brand values, and provide the customer with a preview of the quality of food and service they should expect. There are different details to consider when designing your menu. Below are 6 important menu design tips we suggest to get you started.
1. Divide your menu into logical sections
The layout of your menu is key to selling your higher priced items by positioning them where they can't miss them and organizing items for guest to easily find what they are looking for. To ensure guests will see the most expensive items, place them at the top of the menu or surround them with a box. Make it easy for customers to search for dishes by arranging items sequentially and in logical groups, starting with the appetizers.
2. Choose how many panels and folds your menu will have
This is the first thing to consider when designing your menu. Depending on how many different dining categories you have will determine the length and number of panels your menu needs. You may also want to think about how large it should be for readability and ease of use. Large menus can be troublesome for tables with limited space so make sure you consider exactly how your menu will be used and design accordingly. Our experts can offer design and printing solutions for those with a large selection of menu items.
3. Have brand continuity
Make sure all brand materials tie in together. Creating a style guide is the best way to ensure all materials complement one another and continue your brand's story. Your choice in logo, colors, fonts and images, all express the brand's personality and values so it's important to stay consistent. Dishes and drink options may change on your menu, but your brand should always be recognizable.
4. Use professional photos sparingly
Professionally taken photos of your menu items are a better representation of what you are offering and are more appealing to customers. Customers can usually tell when restaurants are using stock images or low-quality photos of food. This can cause them to misinterpret the quality of your establishment. Use less images and leave menu items to the customer's imagination- which is better than trying to appeal to everyone.
5. Choose an appropriate typeface (font)
As mentioned before, typography communicates a restaurant's brand but it also helps in other ways. Selection of typeface may depend on a number of useful factors, such as the amount of text needed to comfortably fit on the page. Using a different typeface for headings to distinguish categories or special items you may want to highlight can help to guide customers through the menu. Lastly, don't forget to use a typeface that is easy to read.
6. Choose the correct type of paper
Choosing the right type of paper for your menu is important because you will want something that will serve as an example of the quality of your restaurant and be durable enough to withstand frequent use.  White is usually the best stock color for menus because it is easier to see and read photos and text against. Some great stock choices include 80-100-pound gloss cover, 100-pound gloss text, or eco-friendly recycled 80-pound matte. If you're not familiar with paper types, our experts can show you samples and suggest the best type of paper for your menu.
Menu Printing in Palm Desert
There are many other different ways to design your menu. Our experts at Xpress Graphics are always helpful and can help you decide on the layout and the number of folds your printed piece may need. They can also recommend a suitable weight of paper to ensure your menu is durable enough. If you would like a quote for printing your menus, stop in or contact one of our friendly sales professionals for our competitive rates that don't compromise quality.