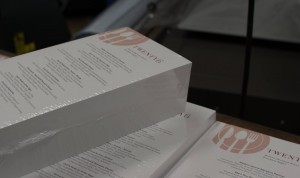 As "season" approaches many Palm Desert businesses are updating their printed materials to attract new customers, and restaurants should be doing the same. Of course the food, service and ambiance are the keys to a successful restaurant, however, you may not realize that menu design is very important to the sales and marketing of your restaurant. Your menu is more than just a list of food choices. Following are some tips to make your menu design more effective to help you generate more revenue.
Menu Style
Your menu is one of the first impressions of your restaurant and the design should reflect the ambiance and vibe you want to portray. Your logo is an important starting point and your menu should revolve around these colors, fonts and style. Depending on whether the restaurant is formal or casual, you may consider a hard or soft cover menu, single two-sided page and also paper weight. At Xpress Graphics, we have three skilled graphic designers on staff to help you with your menu design.
Size Matters
Sometimes bigger is better, but not always with menus. Menus that are too tall have been known to knock over glasses or block the view of dining companions. Similarly, menus that open too wide can be awkward, hard to manage, and spill in to your neighbor's space. On the other hand, you don't want your menu too flimsy and always want to ensure that it is large enough to use a font that your guests can read without too much trouble.
Delectable Descriptions
Again, your menu is more than just a list of dishes and incorporating more descriptive words can make a significant difference in how customers interpret the choices. You can focus on taste and texture such as "fluffy, buttery mashed potatoes" or a nostalgic theme that invokes a feeling like "Grandma's Mashed Potatoes." Some restaurants focus on brand names to incorporate into recipes with "Jack Daniel's BBQ Sauce" or "Snickers Chocolate Cake." Finally, you may include known geographic references such as "Southwestern Taco Salad" or "Desert Date Shake." Research shows that more descriptive menu choices result not only in more sales, but also stimulate diners to enjoy the food more.
How to Highlight Specials
If your restaurant has particular special items or dishes that you'd like to highlight, then be sure to incorporate this into your menu design with a special box or border for those dishes. Even a formal restaurant can highlight premium choices in an elegant way, with ornate or very clean lines; whichever compliments the style of your establishment. This also provides an important visual break for your guests. Often restaurants want to highlight certain types of specialties throughout the menu such as Gluten Free, Low Calorie, or Chef Specialties. Choose an appropriate symbol that can be used throughout the menu for these choices. Again, it can be silly and fun for a casual restaurant and more ornate such as a fleur de lis for a more formal restaurant.
Consider Currency Signs
Even in a formal restaurant, you probably don't want your guests focused on prices. You can discourage your guests from scanning for the lowest priced item, by using a menu design that doesn't align all of the prices. Another approach is to leave the dollar sign ($) off the menu completely. Studies show that customers spend more at restaurants where menus do not include the dollar sign. If it appears awkward without the dollar sign, you can put a dash after the price.
Photos Opps (Not Oops)
It's generally agreed that for upscale restaurants, photos are not appropriate on menus, but many other types of restaurants can use photos as part of menu design. However, if you choose to include photos, they must be very high resolution and of high quality. It can be very difficult to make food look appetizing in print; lighting and food styling can make a significant difference in making food look appealing in photos and it is probably worth the cost of a professional photographer. Additionally, be sure to work with a professional printer that can ensure that your photos print clearly as well.
Think Outside the Menu
Along with the general menu there are many options to further promote your specials and other revenue sources. At Xpress Graphics, we can help you create additional promotional materials including: table tents, take out menus, bar menus, dessert menus, appetizer menus, daily specials and more. We can also help with other printing solutions to stay in contact with customers.
Come visit us at Xpress Graphics and let our skilled graphic designers help you ensure that your menu design is appealing and effective. We have the ability to print almost any job in our state-of-the art facility and working with a local Palm Desert printer provides personal service and avoids any shipping charges you pay when you use an online printer. Rush and same-day jobs are often available. Give us a call and we'll show you our menu of options.