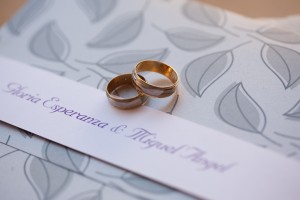 As you plan your wedding, one of the most exciting (and stressful) steps can be ordering "save-the-dates" and wedding invitations. This is the first impression that your guests will have of your wedding. Will it be formal, causal, fun? At Palm Desert Xpress Graphics, we're seeing a lot more leeway in both design and wording of invitations, however, here is some basic etiquette overall regarding invitations.
Timing
In general, you can send "save-the-dates" four to six months out, but if your wedding is going to be far away for most guests or on a holiday weekend, you should plan to send them six to eight months before the wedding. Wedding invitations should go out eight weeks before the event.
Style
Wedding correspondence can come in a vast array of styles from clean, white formal squares to colorful and more whimsical long rectangles. At Xpress Graphics, we can help you find the cardstock and font appropriate for your special day.
Wording
Even if you don't want to be too formal, you do need to include the basic information. This generally includes:
Who is hosting.
Names of the Bride and Groom
Action (invite you to attend)
When, where, time
Specifics (reception to follow)
Local Printing
It's a great advantage to work with a local, Palm Desert printer for wedding invitations. We take a personal interest in our customers and work closely with you to ensure you have the custom wedding invitation of your dreams. With a local printer, you can actually feel the different cardstock weights, see the colors of envelope liners and avoid the sometimes confusing jargon of online printing companies.
As you plan your important day, make a visit to Palm Desert Xpress Graphics part of your timeline. We look forward to helping you choose just the right save-the-date and wedding invitations for you. And, when you work with a local printer, you can avoid any shipping fees. Save that extra cash for the honeymoon.