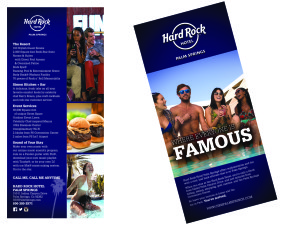 Almost all businesses rely on repeat customers. It takes a lot less effort than attracting new customers. So how can you continue to communicate with customers after they leave your door? When you partner with Palm Desert Xpress Graphics, we can help you with printing solutions that keep you in touch with your customers.
Email Sign Up Forms
Studies show that email is one of the most effective ways to interact with customers. It's perfect for sharing new products and services, promotions, company hours, etc. It's best to capture customers' email address while they are in your shop or business. Xpress Graphics will help you design an eye-catching and easy-to-use form for your customers to provide their email address and other pertinent information to help you keep in touch. Adding an incentive such as a raffle entry or future discount when they fill out the form can help motivate customers to participate. People will often happily fill out these forms while waiting for their order at a table or while you ring up their sale at the register.
Tempting Take Out Menus
The restaurant business is one of the most competitive industries. If you own a restaurant that offers take out service, providing an appealing, quality take out menu is a must. Although "take out" often implies "cheap," price isn't always a factor for customers. Most customers still prefer quality over price. Your take out menu is foremost a reminder of your restaurant, but also an representation of your business. Quality paper, tempting photos, and appealing design all contribute to differentiating your restaurant among the pile of other menus the customer may have. Menus are a relatively affordable way to keep your restaurant in the minds of your customers at the right time (when they are hungry and considering take out!).
Quality Brochures
Many businesses provide services that may not be decided and finalized on the spot and you want to give your clients and customers something to take home to review. High quality brochures can make the difference in making a sale. Your brochures are a representation of the quality of your business and remind the client what you provide. And, many customers prefer perusing a brochure to clicking through a website. Whether it is a catalogue of your services, products or prices, brochures are an important part of your sales strategy. At Xpress Graphics, we have three skilled designers on staff to help you with your brochure layout and design.
Eye-Catching Direct Mail
Even in this digital age, direct mail is still an important part of your marketing plan. Not all customers are technologically savvy and some may prefer to receive information in the mail; card or letters that they can hold in their hands or even pin on the bulletin board. Direct mail also lets you easily target your message to a particular geographic area or other segment of your customers. In our Palm Desert seasonal community, sending a "welcome back" postcard will remind your winter customers of your business or communicate special promotions to locals during the warmer months. Whatever message you want to send, Xpress Graphics will help you design the perfect printed solution.
Personalized Letterhead or Note Cards
Direct mail and eblasts are part of a strong marketing strategy, but there's almost nothing more impressive than a personal note. Personalized, printed letterhead and notecards raise your business to the next level of professionalism. Take the time to write a personal thank you to your best clients for a large order or maybe to a particular new client, and you will make a memorable impression. Creating a personal connection with clients and customers is one of the best ways to solidify repeat business.
At Xpress Graphics we can help create a variety of printing solutions to keep you in touch with your customers. With three professional in-house designers and the printing equipment in our own Palm Desert printing facility, we are your partner for all of your printing needs.