Avoid confusion and miscommunication by using terminology correctly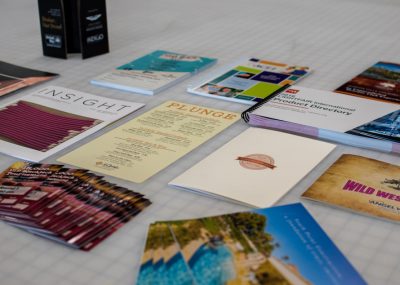 When it comes to printing, there are many options to decide on. Understanding how printing works and basic terminology is important to ensure your printed materials are prepared correctly to avoid any delays and so that materials turn out exactly how they are supposed to the first time. Here are some printing terms you should know.

Key printing terminology
File Set-up
These terms will help you in understanding how to set up your files before you send them to us to have printed.
Trim – Trim size represents the final dimensions of your printed collateral. Also, the size of the publication.
Safe Area – is the area inside the trim. Any content outside of this area is in danger of being cut off.
Bleed – Bleed is cut off when the publication is trimmed to the final size. Its sole purpose is to make sure your design or image reaches the very edge without leaving any unsightly white edges.
CMYK – refers to four-color (or plate) process printing. Every color is created by mixing different values of these four hues. To ensure the best and most accurate print job, convert documents and colors to CMYK before submitting them to us for printing.
Coating:
Print coatings can help your printed products stand out by making them more durable, more elegant or by bringing the reader's attention to the right spot. If you are unsure of which coating might be best for a piece you'd like us to print, please ask one of our professionals for their expert recommendation.
UV Coating – UV coating is a clear compound that is applied to paper wet, then instantly dried by ultraviolet light (UV coating is short for ultraviolet coating). UV coating provides a brilliant glossy sheen to your printed pieces.
Aqueous Coating – a water-based coating that provides protection from fingerprints or other blemishes. This coating is available in dull or glossy finishes.
Varnish Coating – Varnish coatings are available in gloss, satin or dull finishes, with or without tints. Varnishes offer a relatively low degree of protection compared to other coatings and laminates, but they are used widely, thanks to their low cost, flexibility and ease of application.
Binding Terms:
There are many ways of combining multiple pages into a single, finished piece. At Xpress Graphics we offer various types of binding methods. Below are the most commonly used methods.
Perfect Bind – Sheet that have been ground at the spine are bound to the cover by glue.
Saddle Stich – Sheets of paper are folded in half and stapled down the middle. Acceptable layout page counts are: 4, 8, 12, 16, 20, 24, 28, etc.
Spiral Binding – Pages are fastened together by a spiral (or wire) coil through a series of holes punched along one side of each page and the front and back covers.
Finishing:
There are endless options when it comes to printing finishes. Here are a few common techniques you should know about that we also offer here at Xpress Graphics,
Emboss – To press an image into paper so it lies above the surface.
Die Cut – To cut irregular shapes in paper or paperboard using die. Most die are custom, but some printers have standard dies available (i.e. rounded corners), which reduces costs.
Folding – It may seem obvious to you, but you must specify if and how your piece should be folded.
Foil – A foil layer is affixed to your piece by a heating process. Metallic foil is most commonly seen today, but foil rolls are also available in solid colors in both glossy and matte finishes.
Full Service Printing in Palm Desert
Call or stop in to speak with our Xpress Graphics printing specialists! We offer quick turnaround times, excellent customer service and competitive pricing. Our knowledgeable staff can provide you with any additional information you may need regarding your printing options. From graphic design of business cards, brochures and flyers to large format signs mounted on foamcore or pop up banners, we can service all your small business print needs. Come by or call us today to get started!