The Importance of Printed Materials for Restaurants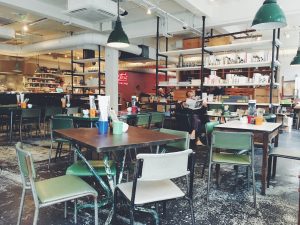 It's no secret that there's more behind a successful restaurant than just the food. Especially in today's digital dependent world where customers can make or break a restaurant's reputation by the number of stars they leave in a Yelp review. As a restaurant owner, you know that customers crave a friendly and inviting atmosphere.
The type of printed materials and decor you use to set the scene counts. It's equally important to understand the impact of professionally printed materials. Most restaurant owners make the mistake of seeing printed materials as expense. However, they're really an investment into the business that will ultimately help with increasing revenue.
What You Need to Market your Restaurant
Before you decide which printed materials you'll need for your restaurant, make sure that you've taken the necessary steps to brand your business. Once you've decided on branding you'll need to figure out what materials you can print within your allotted budget. To help, our print experts have ranked the printed materials for restaurants from highest to lowest priority:
Menus
Business Cards
Postcards
Coupons
Booklets Advertising Takeout Menu
Flyers
Stickers
Coasters
Pens
Taking the time to invest in these printed materials for your restaurant shows customers that you're invested not only in your business but in their experience. Investing in restaurant printing will ensure that they remember how good your food is and know exactly where to come back for more. Because these materials go beyond the food to make a lasting impression on customers.
Where to Get Printed Materials in Palm Desert
If you're deciding where to print, you'll find that there are a lot of different companies online that offer these services. Instead of choosing an impersonal online printing company, choose to print locally! Xpress Graphics is a local Palm Desert printing company that can handle any project in-house from start to finish. Our graphic designers will work with you personally to ensure that your desired design is executed to perfection. Contact us today to get started on creating printed materials that showcase how great your restaurant is!