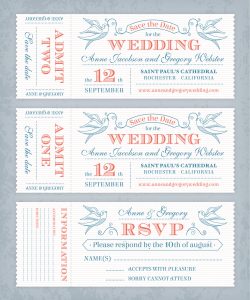 Ah, February! The classic month for lovers of all ages, and a reminder to all of you brides-to-be that wedding season is right around the corner. Planning a wedding can be equally exciting as it is stressful. So, to help keep you from getting too overwhelmed, the Palm Desert printing experts here at Xpress Graphics would like to offer you some help with one part of the planning: wedding invitations.
If you're in the beginning stages of planning, then let's talk about one of the things you'll need to do after you choose the date and location of the wedding and have all your stunning engagement photos picked out. Now, it's time to send out save-the-date invitations.
Remember: You don't have to decide on an exact location just yet, but you should know the city where the wedding will be held.
Usually save the dates are sent out anywhere from 6-8 months before a local wedding and 8-10 months before a destination wedding. This gives your potential guests plenty of time to make the travel plans necessary to attend your special day.
This is also where you can begin to incorporate the theme of your wedding. The type of font, colors and paper materials you use will help you accomplish your ideal look. Will it have a more fun and whimsical look or a crisp, traditional appeal? The possibilities are endless! (Good thing you can consult with the print and design specialists at Xpress Graphics before ordering.)
Remember: The style that you use to announce your special day will set the tone for the rest of the wedding.
After you send out save-the-dates, you'll have some time to focus on planning other parts of the wedding. However, don't forget to set a save-the-date reminder for yourself to order and print your wedding invitations! Traditionally, wedding invitations are sent out 6-8 weeks in advance and provide your guests with all the details they'll need to help make your special day great.
Remember: Follow proper wedding invitation etiquette when designing your invitations to ensure that you don't exclude any must-have details.
When ordering both save-the-dates and wedding invitations, the most important aspect to keep in mind (besides the design, of course) is who you're going to choose to print these materials. Using a local Palm Desert printing and design service rather than an online printing service guarantees that you'll receive invitations that are of the highest quality and of the exact design you chose.
So, when is your big day? Let us know so we can save the date and print your wedding invitations!