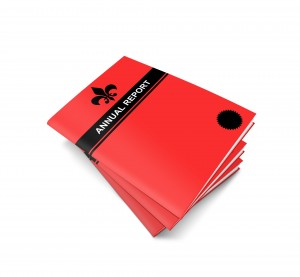 You've worked hard on your report and want to ensure the most professional presentation. Whether it's an annual report, a new business proposal, or other important project, the presentation is a reflection of you and your company. At Palm Desert Xpress Graphics, we will help you through the process to make the best choices for your business printing. From paper weight to cover style and binding method to even helping with graphic design and charts, our team is your local printing partner.
Which Binding Is Best?
Professionally binding your report is important not only to make it look best, but it also ensures that the papers stay in the right order and it's easier for people to manage, read, and use for notes without the hassle of pages falling out.
There are quite a few options for binding that depend on number of pages and the function of the document. A few of the most popular and cost efficient are square fold saddle stitching, perfect bound, spiral bound and wire-o bound.
Square Fold Saddle Stitching
This is a common and relatively economical form of binding, especially for small documents or up to about 80 pages. This method uses a wire punched through the outside spine and then folded flat on the inside. Although it seems comparable to stapling, it is a stronger process. The square folded edge (similar to a book binding) gives a more professional and custom appearance similar to perfect binding.
Perfect Binding
In this method, sections of pages (called signatures) have the spines cut off and then are glued together at the edges. A heavier cover is then glued over and around the edges creating a flat spine similar to a softcover book. This is a very professional finish for a presentation of 50-250 pages and very large quantity print jobs, however, the book won't lay open flat.
Spiral or Coil Binding
This binding method uses either plastic or metal coils in the same way for documents up to 275 pages. Holes are punched in the pages and a long coil is twisted through the holes. Documents are able to lay flat or fold back on itself. Coils are available in a variety of colors to enhance the overall appearance. This choice may cost a bit more, but tends to create a slightly more professional appearance and allows more flexibility of the document.
Wire-O Binding
Another very popular biding, Wire-O binding uses a double loop wire through punched holes for documents up to 275 pages. This binding also allows the document to lay flat or fold back 360°. An assortment of wire colors is available to coordinate with logos or covers. This is a durable choice that provides a very professional finish.
Covers
There are a variety of options for covers for your presentation as well. Paper covers can be made in almost any color and many different weights for economy or durability, and of course, can be printed or left blank. Plastic covers are also a popular option for durability and a higher level of professional appearance.
Custom Graphic Design
At Xpress Graphics we have three skilled in-house graphic designers to help ensure your report offers the most professional design. If you need help with charts, diagrams or even creating a special logo for your presentation, these professionals with work with you to create exactly what you have in mind (or even better).
Palm Desert Full Service Printing
Xpress Graphics is a full service printer providing copying, printing, graphic design, large format, signs, posters and banners, promotional pieces, and so much more. If you need a professional report printed and bound or any other business printing project, come visit us in Palm Desert. Our dedicated staff will work with you personally to provide the highest level of customer service and quality printing. And, because we are local, we can often accommodate rush or same-day orders and save you shipping costs that come when working with online printing companies. Let us help you make your company look great!