Yes, Business Cards are a Must!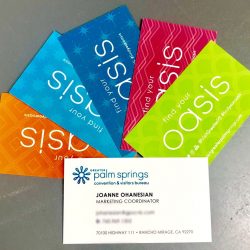 Are business cards still an effective marketing piece needed for your business? Yes, and yes again! In spite of living in a digital era where the paper is fast being replaced by all things electronic, there are still times when traditional marketing pieces serve us best, and this is certainly the case with business cards.  Read the benefits of why business cards are a must, even in a digital era.
Provide Contact Details Quickly
The number one purpose of business cards is to provide a way of sharing contact details with each other quickly and easily. Offering someone a business card is much simpler and more professional than scribbling down your name and contact details or reciting your details aloud while they try to enter them in their smartphones accurately. Be prepared to network and make connections that could enhance both your business.
A beautifully designed business card is pocket and wallet-friendly and tells people your name and what you do. Every time that business prospect looks at your card, they're reminded of you and your company, increasing the chances that they'll use your services.
 The five essentials needed on a business card: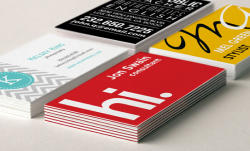 Your Name
Your Title or Area of Expertise
Contact Details (phone number and email)
Social Media
Website
Brand Awareness
Networking business cards are a tiny form of advertising that creates more awareness of your personal brand in the marketplace, and business cards are a cost-effective and simple way for both individuals and companies to do so. A well-designed business card speaks volumes and creates a tangible reminder of who you are and what you do.  They should, therefore, be distinct to your personal brand by following a style guide.
Your personal brand should include: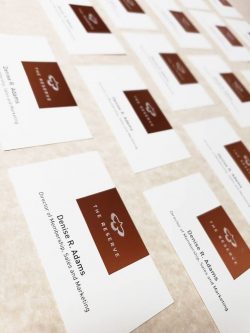 Brand Name
Logo Design
Color
Font
Tip: To ensure your business card doesn't end up getting thrown in the trash, we recommend adding something compelling on the card itself. Keep the essentials on one side and use the other side to include information or a resource that recipients want to keep. A Realtor might have a chart that helps potential buyers figure out how much house they can afford. An e-commerce store can have a coupon on the back of the card. A blogger can list benefits or free stuff available on her site. A coach can offer a list of tips.
Our design team can help make your branded business card stand out amongst the competition.
Establish Credibility
Finally, business cards are a great way to establish your credentials and credibility as well as demonstrate professionalism. Because the business card carries a significant amount of information about who you are and what you do, a well-executed business card immediately says to clients, prospects and potential employers that you're a professional and are recognized within your field.
Having a uniquely designed business card to hand out at social gatherings, networking events, various business events and during chance encounters, sets the tone of professionalism and competence, which is always a great place to start when building relationships.
Full-Service Printing in Palm Desert
Call or stop in to speak with our Xpress Graphics design specialists! We offer quick turnaround times, excellent customer service and competitive pricing. Our knowledgeable staff can provide you with any additional information you may need regarding your design and printing options. From graphic design of business cards, brochures and flyers to large format signs mounted on foam-core or pop up banners. We can service all your business print needs. Come by or call us today to get started!